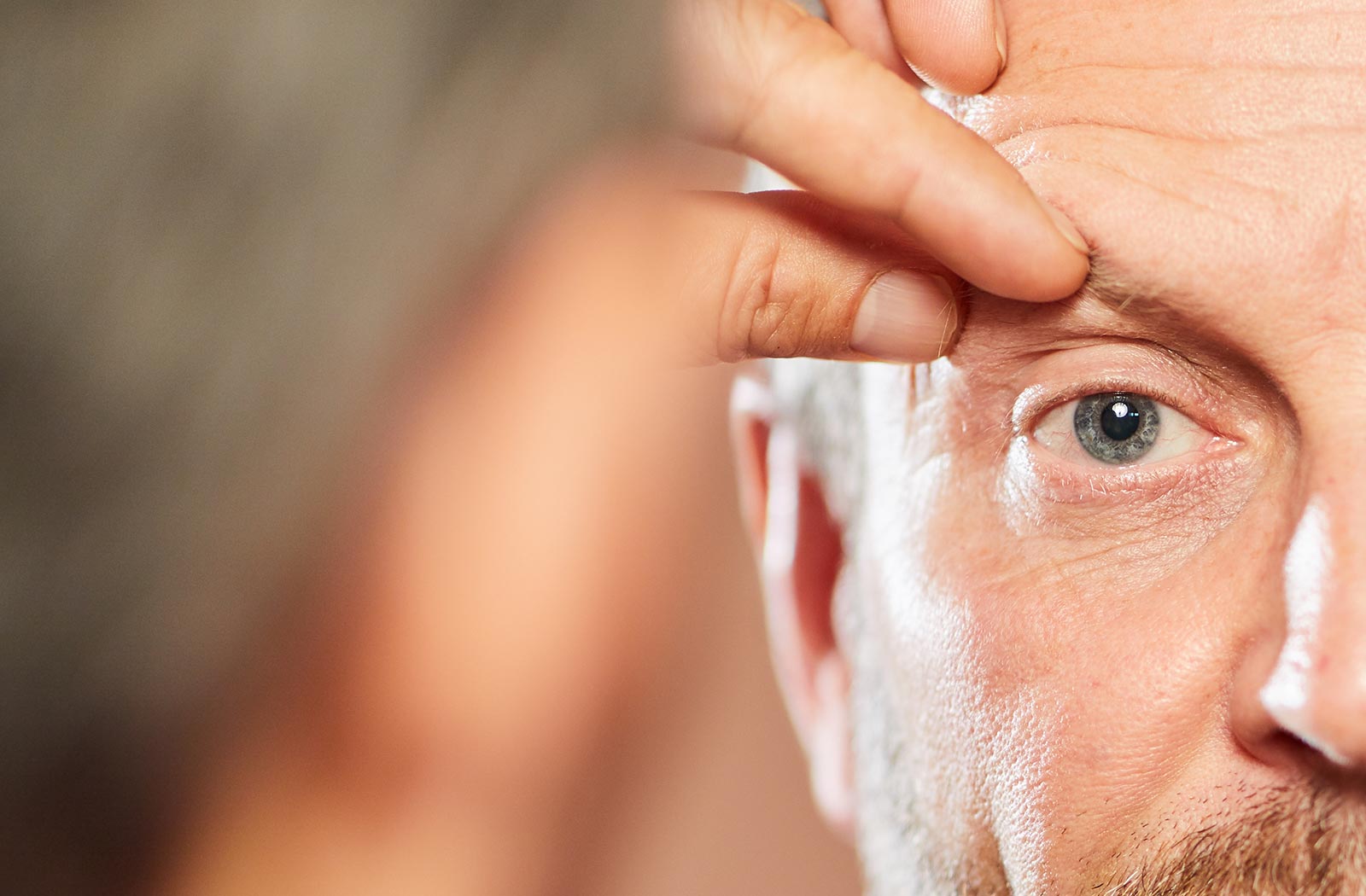 Upper eyelid surgery/blepharoplasty
Drooping eyelids or small openings of the eyes can often make you look more tired and older than you feel. With eyelid plastic surgery, you can easily regain a younger and more alert appearance.
Drooping eyelids can be fixed with upper eyelid surgery. Plastic surgery of the upper eyelids is one of the most common procedures that our surgeons perform. At Ögonlocksakademin, the first step before a potential surgery is always a consultation, free of charge. During the consultation you get to meet one of our experienced eye specialist surgeons. After that, we will help you schedule an appointment for surgery if you wish.
We offer both video consultations and physical meetings. Schedule your consultation today!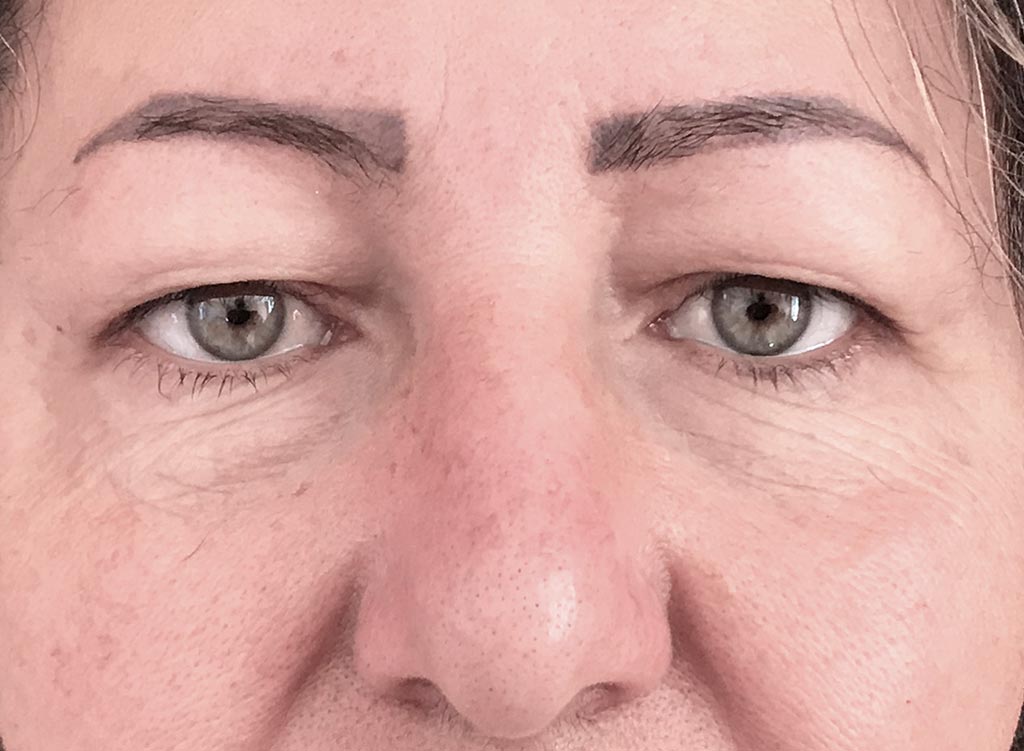 What causes drooping eyelids?
Drooping eyelids occur when the skin loses its elasticity, causing excess skin. Drooping eyelid sometimes also happens when "pads" of skin starts to bulge out, fat that used to be located deeper inside the tissues of the upper eyelid. The pads of fat can usually be found close to the bridge of the nose and on the upper eyelids. Drooping eyelids can both appear with age or be something that you are born with.
Upper blepharoplasty/droopy eyelid surgery can be done for both cosmetic and medical reasons. Drooping eyelids can cause a heady feeling and, in some cases, reduce the visual field. It is common to unknowingly compensate for this by lifting the eyebrows, causing clear and lasting wrinkles in the forehead over time. This can also cause problems with tension headaches.
Through upper eyelid plastic surgery/upper blepharoplasty, you can regain a more alert appearance and look. Let us at Ögonlocksakademin take care of your eyelids!
Upper blepharoplasty/droopy eyelid surgery
Upper eyelid surgery with good result involves so much more than just removing the excess skin around the eyes. If needed, we also do an upper eyelid fat removal, removing bulging fat and tissue. We also reduce wrinkles and excess skin in the outer corner of the eye, making you look more alert and livelier.
We can also fixate or make a slight increase of the position of the eyebrow. For those with very short eyelids, we can adjust this to get a higher located globe line. Some people suffer from drooping eyelid edges (ptosis), which we can also adjust.
At Ögonlocksakademin, you can get upper eyelid surgery in combination with lower eyelid surgery.
Schedule a free consultation
Are you considering eyelid surgery? At a consultation with Ögonlocksakademin you get to meet one of our eyelid specialists. During the meeting you will get all information about the surgery, what we can do to help you, and what you can expect based on your situation and circumstances. There will also be time for your questions and concerns.
If you want to, the consultation will be held at our clinic in Uppsala, Sweden. We also offer video consultations. The consultation is completely free of charge and non-binding. Schedule your consultation easily here on the website.
A gentle method of surgery
At Ögonlocksakademin, we use a specially developed and gentle method to adjust drooping eyelids. During all our eyelid surgeries, we use a practically painless and specially produced local anesthetic. You stay awake during the entire procedure. The surgery takes about half an hour per eyelid, which means that the whole procedure takes about an hour.
During the surgery itself, we do not use a knife, we use radio wave surgery. This means that skin, fat and tissue is removed using a radio wave needle. This type of surgery is much more gentle on the skin, makes the swelling decrease faster, and gives a much finer incision.
The surgical incision will be put in the globe line and past the corner of the eye – and will therefore not be apparent after healing. The scar will be a bit red and swollen at first, but gradually fade with time.
After the surgery, you will have a slight swelling. You will be able to get home on your own. The stiches are removed after about 1 week.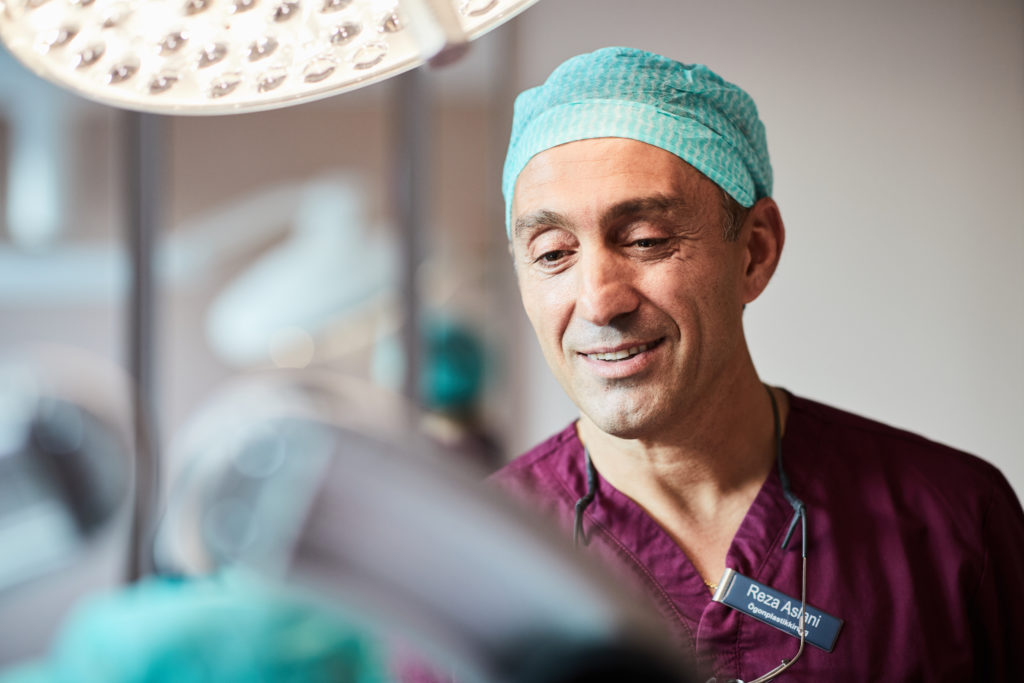 We are specialists in eyelid surgery
At Ögonlocksakademin, we focus solely on eyelid surgeries. This means that our surgeons possess a unique expertise and have extensive experience of eyelid surgery. Everyone working at Ögonlocksakademin have committed to eyelid surgeries full time for many years. Because of this knowledge, we know what it takes to give you as natural and good result as possible.
Since the start in 2004, Ögonlocksakademin has specialized and focused exclusively on eyelid surgery. Ögonlocksakademin is located in Uppsala, but we have patients traveling to us from all over Sweden and the world. We are one of the clinics that perform most eyelid surgeries in the country.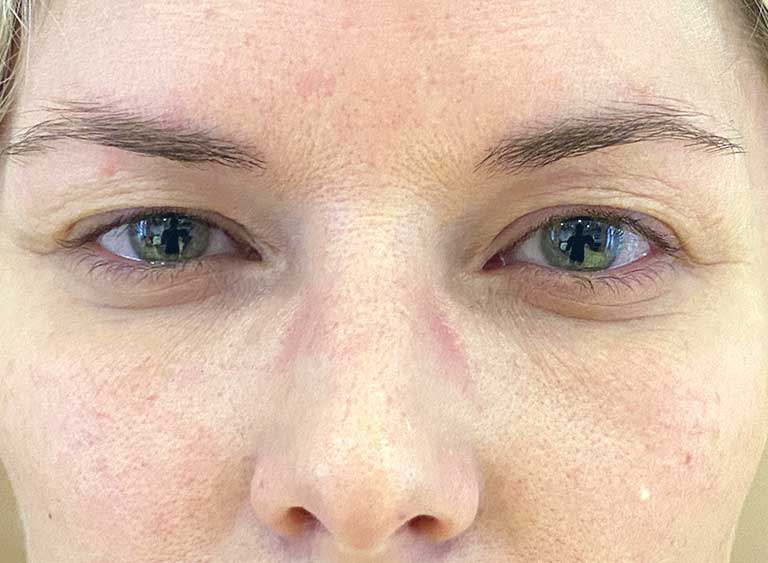 See more of our before and after photos of upper eyelid surgery.
Listen to some of our patients